Autographed "Celebrity Lights" Cookbook
This item is a copy of Celebrity Light Cookbook (1996) containing favorite recipes from famous women in support of breast cancer research. Gillian's recipe for Curry Rice Salad is on page 46.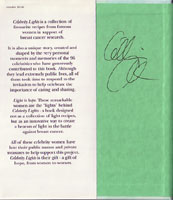 The book is signed by Gillian Anderson and comes with a Certificate of Authenticity from the Official Gillian Anderson Website.