DONATE FOR ITEMS ON THE WISH LIST!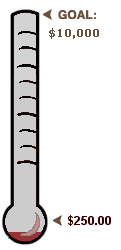 THANK YOU SO, SO VERY MUCH to all the wonderful people who have been participating in this ongoing fundraiser. Because of your fantastic generosity and support, the school has been able to plaster its walls, cement its floors, and obtain access to ELECTRICITY! They've also been able to purchase two computers, two UPs, and one printer. Donations made in honor of Gillian's 38th birthday went towards a classroom block and several months later, the borehole project was completed. Just before Christmas 2007, twelve full year scholarships were donated to the school. In April 2011, an Australian fundraiser and an auction of autographed photos raised the necessary amount for a much needed teachers' housing unit.
Our current fundraiser is for a whole variety of items still on the wish list.
To make a donation, please visit our donations page.
We greatly value the flexibility and generosity of donors. Because the school is new and growing, we can help best by regularly adjusting our goals according to the school's most urgent needs. Thank you for your patience and understanding!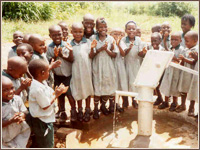 4/21/11: Funds for a Teachers' Block!

"When I told the Teachers about this good news they were all very excited and asked me to pass on their thanks to you all." Read More...