About the Martha Gellhorn Project
Posted at 9:18 AM (PST) on Tuesday, March 22, 2005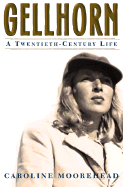 Gillian has the rights to "Gellhorn: A Twentieth-Century Life" by Caroline Moorehead and plans to make a feature film (not a biopic) focusing on the marriage between Ernest Hemingway and Martha Gellhorn.

Sharman Macdonald will write the screenplay and Gillian will play the role of Martha Gellhorn.

Gellhorn Book: Amazon.co.uk

P.S. Contrary to rumors, there is no Gillian/John Hannah project.