TV Critics Winter Press Tour
Posted at 10:10 AM (PST) on Sunday, January 15, 2006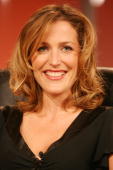 ON THE TELEVISION PRESS TOUR: DAY 5
Robert Philpot
In My Opinion
Star-Telegram.com

Editor's note: Star-Telegram TV critic Robert Philpot will tell tales about the stars and the shows in his daily online-only reports from Pasadena, Calif., where the Television Critics Association is holding its press tour.

SATURDAY, JAN. 14, DAY 5

Today was PBS day, which meant plenty of sessions about documentaries _ don't run away, I'm not gonna write about all of 'em _ as well as Monty Python and, sorta, The X-Files.

3:35 p.m.: Sitting on a couch at the far end of a very large room is the not very big Gillian Anderson, who looks even smaller in this context. Her 5-foot-3 frame is bundled from the waist up and covered in a blanket from the waist down. I'm one of a revolving door of reporters doing 15-minute interviews with Anderson, who is in the upcoming adaptation of Bleak House, a Charles Dickens novel so massive that it measures over 1,000 pages in a slightly oversize paperback. Bleak House was a big hit in Britain, where it ran in half-hour daily installments, and PBS has high hopes for it here. The eight-hour series will begin a six-week run Jan. 22 on PBS (KERA/Channel 13, although you should check the listings just to be sure).

Because Anderson is so bundled up, I ask her if she's not feeling well or if she's just cold (several places in this hotel appear to have the thermostats set at 59 degrees). She says she hurt her back just after arriving for the press tour. The former X-Files star also seems tired, a consequence of jet lag after a 14-hour flight from London, her current home - and probably a consequence of sitting through a session and then several 15-minute interviews.

Fifteen minutes is just enough for me to talk to Anderson about her absence from TV - Bleak House is her first TV project since The X-Files left the air in 2002 - about her film career (she has four movies due out this year), about classic literature, about her world travels (during the past couple of years she's visited about 30 countries), about her charity work. Her answers are cordial, but not effusive; I get the feeling that she's been asked many of same things several times today, which is always a risk at these kinds of things. But I get enough for a story, which I hope will appear in the Star-Telegram's print edition before Bleak House's premiere.