New: Gillian Anderson Timeline
Posted at 8:45 PM (PST) on Wednesday, January 25, 2006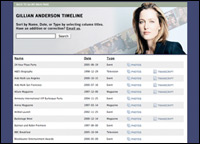 Click here to visit our new Gillian Anderson Timeline, which will let you view photos and transcripts from Gillian's appearances in magazines, television shows, and public events.

You can sort the timeline by name, appearance type, or date by selecting the corresponding column titles. Suggestions, additions, and corrections are welcome -- email us.