ANSA Auction: Signed headshot of Gillian
Posted at 1:35 PM (PDT) on Thursday, June 15, 2006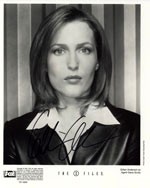 Artists for a New South Africa invites you to participate in their online auction of once-in-a-lifetime celebrity experiences, Star Wars Collectibles and Hollywood memorabilia including a signed headshot of Gillian as Scully.

Auction ends July 6, 2006.

To bid on these items, please visit: www.charityfolks.com.


Thanks, Lana!