Hands That Shape Humanity
Posted at 10:39 AM (PDT) on Monday, August 8, 2005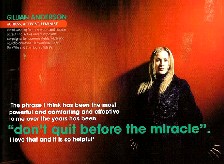 Hands That Shape Humanity strives to extract the unique characteristics that have enabled the participants to achieve their success and to distil these traits into qualities, practices and approaches that any of us can use to improve ourselves and contribute towards creating a better society.

At the same time, part of the proceeds raised through the Hands That Shape Humanity initiative go towards the Desmond Tutu Peace Centre in order to help further the DTPC's goals and objectives.

Ordinary People, Extraordinary Lives

The first phase of the Hands That Shape Humanity exhibition comprises words of wisdom, and shared thoughts and insights on humanity and what shapes it, from 38 high profile people, from all over the world and from all walks of life.


Gillian Anderson:

"The fears that live inside of us, whatever they are, and however they manifest, prevent us from living our highest potential as individuals, as contributors to the human race. If we can consciously and vigilantly transmute those fears into compassion for others, we will know what it is to live a peaceful existence on this planet."

Question: If there was just one piece of wisdom you could leave behind for humanity, what would it be?

Gillian's Answer: The phrase I think has been the most powerful and comforting and effective to me over the years has been "don't quit before the miracle". I love that and it is so helpful.


The first Hands That Shape Humanity Exhibition was launched on the 25th of November 2004 in Cape Town, South Africa - the hometown of the patron of HTSH, Emeritus Archbishop Desmond Tutu. Due to the fantastic response, the initial 3 months exhibition has been extended to 12 months. HTSH will soon embark on a global road-show as it is hosted in cities around the world throughout the Americas, the UK & Europe and Asia-Pacific. Appropriate venues are currently being sourced.

A permanent exhibition will also be housed in the Desmond Tutu Museum of Peace that commences construction in 2006 on the Foreshore in Cape Town, South Africa.

Take a virtual tour of the exhibition.

Read more at Marie Claire and Kulula.

Click HERE to view an 8 page PDF article. 624k





Thank you Marie, Laura, and Lina!