Greetings from Africa!
Posted at 10:04 AM (PDT) on Friday, August 5, 2005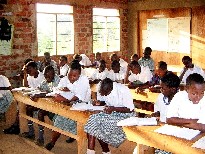 Hello everybody.

I am presently in Ethiopia after finishing shooting in Uganda on LKoS. It was a really wonderful experience albeit frustrating and chaotic and impossibly mad at times. There are a lot of very funny moments that I should probably put down on paper sometime involving cows and cars and mud and rain and 'Asians' or lack thereof.

One of the things I did while in Kampala was to visit a school that a friend is chairman of. The school has been open for almost two years and has about 120 students in one of the poorer parts of the city. They have no electricity and hardly any books and have filled up their exercise books I don't know how many months ago, and some of the kids cannot afford the uniforms, etc. etc. etc. And yet the children are incredibly bright and disciplined and so ready and willing to learn.

The afternoon I was there, they held an assembly for me outside and I talked to them briefly about a few things until the sky opened up in a torrential downpour. We took cover in a hall with a dirt floor and a tin roof and my assumption that we might be able to continue the assembly was soon thwarted by the fact that I could not even hear myself speak. And so after sitting around silently twiddling our thumbs for fifteen minutes I asked if they had any songs they could sing. They ended up singing four long beautiful African songs accompanied by dance moves, solos, and percussion -- two boys crouched in the corner banging on yellow plastic jugs with sticks, as the rain pounded above us and my smile grew and grew and grew.

Over the next few years I think I will be focusing more on schools in Africa and this will be the first. More later!

Happy soon-to-be unbirthday to most of you. Tee hee.

Gillian.


Reminder: Gillian's Birthday Fundaiser

Thanks for the unbirthday link, Marke!