Straightheads DVD now available for pre-order
Posted at 8:35 AM (PDT) on Saturday, July 21, 2007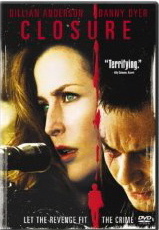 In the USA and Canada, Straightheads will be released under the title: CLOSURE

Title: Closure (2007)
List Price: $24.96
Price: $22.49 & eligible for FREE Super Saver Shipping on orders over $25.
You Save: $2.47 (10%)

Pre-Order Price Guarantee! Order now and if the Amazon.com price decreases between your order time and release date, you'll receive the lowest price.

Pre-order now! Ships from and sold by Amazon.com. Gift-wrap available.

Format: AC-3, Closed-captioned, Color, Dolby, Dubbed, DVD-Video, Subtitled, Widescreen, NTSC

Language: English

Region: Region 1 encoding (US and Canada only)

Amazon USA - Release date: September 18, 2007

Amazon Canada - Release date: September 18, 2007

Amazon UK - Release date: September 24, 2007

NOTE: The referral fees for orders placed through our links will benefit NF, Inc. Thank you for your support!