Gillian in Rolling Stone's 1000th Issue
Posted at 10:21 AM (PDT) on Friday, May 12, 2006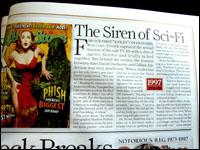 The current 1000th issue of Rolling Stone magazine includes a brief interview with Gillian about her Rolling Stone cover in 1997.

The Siren of Sci-Fi
By Gavin Edwards

For our first "X-Files" cover in 1996, Rolling Stone captured the sexual tension of the cult TV hit with a shot of agents Mulder and Scully in bed together. But behind the scenes, the tension between stars David Duchovny and Gillian Anderson was very much real. When Anderson got her solo cover a year later, David Lipsky wrote, "You can feel the competitiveness on the set." Reading the interview now, Anderson reflects, "I am glad that I did not come across as the ditz I sometimes do when I run off at the mouth. But also fascinating to still, after all these years, have a reaction to reading that David was the favored child! So not true! I am joking, of course."

The cover shoot - for which photographer Matthew Rolston took inspiration from old monster-movie posters -- was scheduled for an entire day. Styled within an inch of her life, Anderson was delighted to be wearing sexy red lingerie after three years of sensible FBI pantsuits. "Slipping out of the dowdy stuff and jumping into this vixen, that felt like a big moment," she says. "I sat in a chair for hours: My hair got set and my body got creamed and these long red nails went on."

On the set, Anderson was in water up to her knees, with a swamp creature grabbing her. "I'd been working out really hard," she says, "but that position was kind of a crouch and every single one of my muscles was screaming."

As for the difficulty of shooting in a water tank, Rolston says, "You have to get the right kind of footwear. Then the hair and makeup people have to get in the tank with her. And you have to keep the tank heated to roughly body temperature -- you're not going to stick Gillian Anderson in a cold pool of slime."

In her London office, Anderson was only two items related to The X-Files, one of which is a framed copy of this cover. When Anderson sees it today, she admires how the color pops out like a 3-D image, and says, "*Bleep*, that was really cool."

Vote for your favorite Rolling Stone cover at Rolling Stone's website.

Thank you to Philiater for the image.