On loo-cation in Worcestershire
Posted at 2:16 PM (PST) on Tuesday, March 21, 2006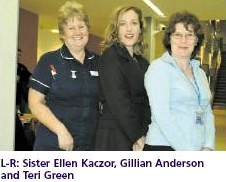 Connect
Worcestershire
Acute Hospitals NHS Trust
Newsletter Issue 27, March 2006 (p.23)


Oscar Glory for Treatment Centre Toilets?

International star of stage and screen Gillian Anderson turned to the TC toilets when a lavish set was needed for a key scene in her latest movie.

Gillian, who is famed for her roles as Scully in sci-fi smash The X Files and more recently as Lady Dedlock in the BBC adaptation of Bleak House, found herself on loo-cation in Kidderminster for the last day of shooting on her latest movie Straightheads – 'a dark and twisted tale of revenge.'

The film's production team were bowled over on a visit to the Treatment Centre and decided that the ladies loo in the main atrium was ideal place for Gillian to shoot the crucial scene, which takes place in luxurious toilet facilities.

The actress and film crew duly arrived and spent several hours on a series of takes, before leaving for their end of shoot party – but not before Gillian had stopped to pose for this picture with Assistant Operations Director, Teri Green and Sister Ellen Kaczor, an Emergency Nurse Practitioner at the Kidderminster MIU.

Teri told Connect: "We are very proud of the facilities we have at Kidderminster, but even we never expected they would attract the attention of an international film star!"

Straightheads was in pre-production as Connect went to press and is due to be released later this year. It might be too early to start thinking about Oscar nominations for 2007 – but watch this space.....


Thanks, Wendy and BobbyG!