Gillian's Alma Mater
Posted at 10:59 AM (PDT) on Thursday, April 6, 2006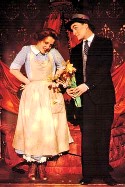 Gillian Anderson, B.F.A. 1990, starred with Kellum Lewis, M.F.A. 1992, in The Theatre School Showcase production of "A Flea in Her Ear" in May, 1990.



Acting up for 80 years
By Sara Burrows
Pioneer Press Online


In 1925, New York was still theater capital of the country. The thriving Broadway stage gave us "No, No Nanette" with a charming, new song, "Tea for Two," while one of the year's smash hits was a show called "The Cocoanuts," featuring music by Irving Berlin, and a wild quartet known as the Marx Brothers.

Actors and other theater folk had begun heading West, too. A dusty hamlet called Hollywood was cranking out new-fangled, moving pictures like Charlie Chaplin's "The Gold Rush" and "The Phantom of the Opera," with Lon Chaney as the musically-inclined madman.

Halfway between the coasts, the first students filed into the new Goodman School of Drama at the Art Institute of Chicago. Funded by William Owen and Malvina Sawyer Goodman, the school honored their playwright son Kenneth Sawyer Goodman, who died at age 25 in 1918.

For the next half-century or so, the Goodman Theatre and its school were theater-central in Chicago. In 1926, Goodman added a regularly performing children's theater, one of the first in the country. It wasn't long before the school became the nationally-respected training program for theater professionals that it is today as part of DePaul University in Lincoln Park. Each year some 300 students, working with more than 100 faculty members, produce more than 200 productions open to the public. During 2005 and 2006, the school has been celebrating its 80th season of performances and education.

"They come to us with passion for, excitement about and commitment to theater. As they should," says John Culbert. "I think that's probably the same way it was 20 or 50 or 80 years ago." Culbert is dean of The Theatre School of DePaul -- since 1978, the incarnation of Goodman Theatre School.
Read more...