Glitzy opening for film festival
Posted at 1:23 PM (PDT) on Wednesday, October 18, 2006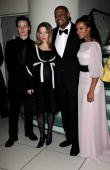 Glitzy opening for film festival
The Press Association
October 18, 08:43 PM

The stars turned out to give the 50th London Film Festival a glittering opening as The Last King Of Scotland had its UK premiere.

James McAvoy and Forest Whitaker, who stars in the film, were joined by co-stars Kerry Washington, who shimmied down the red carpet in a stunning white dress, and a very pregnant Gillian Anderson.

The cream of British cinema also turned out for the crowds in London's Leicester Square - Joseph Fiennes was joined by his girlfriend Maria, while Bafta winner Thandie Newton also put in an appearance.

McAvoy, who was joined by fiancee Anne-Marie Duff, wearing a black and gold dress, revealed that the film made its mark on him.

"The film has had a profound effect on me personally," he said, adding that he hopes to return to Uganda as soon as he has time.

"I want to do awareness work, probably with the Red Cross, and fundraising for displaced people," he said.

The Last King Of Scotland, which deals with some of the worst excesses of Idi Amin's dictatorship, gave the actor the chance to play a rare role, he added.

"The opportunity to play someone who was self-serving and arrogant doesn't come along very often," he explained.

"I feel it was a truthful representation of Britain in Africa."