Heads Up! Upcoming MAG Auction: Gillian's Shoes
Posted at 10:52 AM (PST) on Thursday, November 16, 2006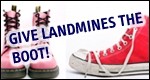 Launching at 12 noon on Tuesday 28th November!

MAG's (Mines Advisory Group) second Give Landmines the Boot Celebrity Shoe Auction is going to be even better than the first, with over 60 pairs of shoes from celebrities from the fields of music, film, art and sport.

More details coming soon.....