iScully
Posted at 12:16 PM (PDT) on Monday, July 28, 2008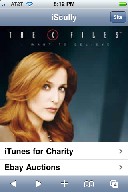 This iScully iPhone Web App is very specific and serves a unique purpose. It allows you to purchase items from iTunes and contribute to NF, Inc. at the same time since it uses the same link that is on our iTunes affiliate button on the left side bar.

There is also a link to the ongoing auctions as well.

You can bookmark this on your iPhone home screen and you'll have a little icon that uses the picture on your phone for future purchases.

Before you buy something from iTunes use this site and make a difference.

You can use it from a regular browser as well but it is best viewed on the iPhone.

The first 6 seasons of The X-Files are now available at the iTunes Movie Store!



Thanks to XCircles.