Sad news from HAL
Posted at 3:16 PM (PST) on Thursday, November 4, 2004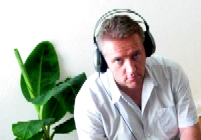 Duncan Lomax of HAL has sent us this sad message.

"Paul Gallagher, also known as Raheen of HAL, passed away unexpectedly on October 25th. He was a pivotal member of the group and the driving force behind much of their work, and will be sadly missed by all who were fortunate enough to know and love him."

The funeral of Paul Gallagher will take place at Walton Lea Crematorium, Warrington on Tuesday 9th November at 12 O'Clock and afterwards at Walton Hall, Walton Gardens, Warrington.

A trust fund is being set up for Conor and Rosa and you are invited to make a donation rather than bring flowers.

Walton Lea Crematorium, Chester Road, Higher Walton, Warrington, Cheshire, WA4 6TB

Walton Hall, Walton Gardens, Walton Lea Road, Higher Walton, Warrington, WA4 6SN

We extend our deepest sympathies to the friends and family of Paul Gallagher. May he rest in peace.