More TMC film news from Belfast
Posted at 5:56 AM (PDT) on Thursday, May 27, 2004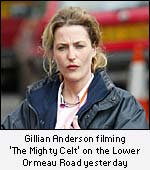 Belfast News Letter (Northern Ireland)
May 26, 2004, Wednesday

GILLIAN EYES UP A ROLE ON LOWER ORMEAU

By Richard Sherriff

IF you should spot actor Robert Carlyle walking around Belfast with a greyhound, don't be alarmed but get the dog's autograph.

After Kes, Black Beauty and Seabiscuit, the Mighty Celt - now shooting in the city - could well be the next box-office hit.

Having Carlyle and X-Files star Gillian Anderson as leads is no mean start but the main action is concentrated on the relationship between teenager Tyrone McKenna and the aforementioned greyhound which gives the film its name.

McKenna plays Donal, a 14-year-old who adopts a greyhound which kennel owner and breeder Good Joe has given up on and becomes determined to train it up as a championship contender.

On Donal's side is his mum Kate, played by Anderson, seen here yesterday between takes on the Ormeau Road, and "O", played by Carlyle, an old friend of the family and old flame of Kate, while Ken Stott plays the not quite so Good Joe.

Filmed by the BBC with backing from the Irish Film Board and the Northern Ireland Film and Television Commission, the film follows Donal as he strives to meet Good Joe's challenge - get The Mighty Celt to win three times in a row and the dog is his. In the meantime, the past is brought to life in the relationship between Kate and O.