Buskaid on 60 Minutes II
Posted at 9:51 AM (PDT) on Friday, May 14, 2004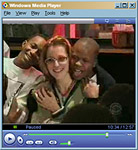 The Buskaid Soweto String Project was featured on 60 Minutes II this week (May 12th). A video clip of the segment is available to view here, courtesy of Gillian and David: The Archives.

The clip is a 21.7 mb zipped Windows Media file (length of 12:57). Gillian is briefly shown and interviewed near the end of the segment.

The corresponding article is available to read here at cbsnews.com.