include("header.php") ?>
Autographed Simpsons Cardboard Cutouts
This item is a set of Simpsons cardboard cutouts (Marge and Bart). They have elastic bands and small slits in the eyes so that they may be worn as masks.
Gillian Anderson and David Duchovny, as Scully and Mulder, were guests in an episode of The Simpsons called The Springfield Files which first aired on January 12, 1997.
"As I recall, Homer sees a UFO and we come to town and try to help him figure out what it's all about. I love The Simpsons. It's just the ultimate accolade being on that show." -- Gillian Anderson (For Him Magazine January 1997)
It is signed by Gillian Anderson (on the back of Marge) and comes with a Certificate of Authenticity from the Official Gillian Anderson Website.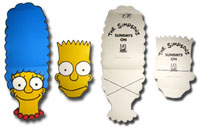 Click to Enlarge

include("footer.php") ?>