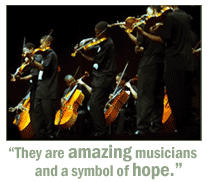 About Buskaid


Buskaid is a charitable trust registered in both South Africa and the United Kingdom. It was founded in 1992 by British viola player Rosemary Nalden, in response to a BBC radio interview she heard, highlighting the plight of a group of young string players in Diepkloof, Soweto. She enlisted the support of a few of her musician friends to do a massive busk at 16 British Rail stations throughout London. In two hours they raised £6000 for the benefit of the young township musicians. Since then several hundred distinguished musicians have participated in a further four "Busks".

Rosemary went out to Soweto with the cash raised from the first Busk to see these young musicians for herself. She continued to do so each year buying musical instruments with the cash that was raised in what had become an annual classical railway station busk. But supporting the cause from a distance proved too difficult. Things became too unstructured. So she did the only thing she felt she could do to preserve and develop the promise of these young kids. She moved to Soweto and started afresh with 15 gifted and willing musicians.

The Buskaid Soweto String Project (BSSP), established in 1997, is made up of younger members of the original Soweto project and an ever-increasing number of new beginners. All its students are drawn from the less privileged local community and range in age from eight to twenty-one. The BSSP is housed in the Buskaid Music School which was completed in May 1999 and consists of a small auditorium, a music library and seven teaching studios.

Funding now comes from corporate sponsorship and individual donations both in the UK and in South Africa, as well as from performances by the Buskaid students themselves. Thus Buskaid has been able to assist and initiate a wide variety of township music projects.

Presently there are 64 students enrolled in the school, with a staff of five teachers and nine trainee teachers. Demand for membership, however, far exceeds the capacity of the Music School and its teaching staff, and well over a thousand youngsters have been turned away since the project first started.

Regarded as a model project both for its high musical standards and the teaching methods employed, its members have already performed twice under the baton of Sir John Eliot Gardiner, and in collaboration with a number of international artists including mezzo-soprano Bernarda Fink and cellist Steven Isserlis. The young musicians have played several times for former President Nelson Mandela and in the presence of Queen Elizabeth II, The Duke of Edinburgh and the Duke of York.

Through these and other such performances they have generated some UK50,000 for the Buskaid Trust. Since mid 1999 the Buskaid Soweto String Ensemble has toured internationally several times and has also recorded three CDs.

The Buskaid Trust established the Buskaid Endowment with profits from the group's USA tour in 2001. When this Endowment reaches its target figure of 10 million rands the Project will become entirely self-sufficient. Currently the Endowment stands at 1 million rands.


Sources: Global News Wire, SAPA (South African Press Association) June 20, 2002, The Dominion Post (Wellington, NZ) December 13, 2002, Buskaid website




Gillian and Buskaid

From Leaders Unlimited:

Early in 2000, Gillian Anderson heard about Buskaid on US National Public Radio and spontaneously phoned Rosemary in South Africa to learn more about the project. She followed up with an unsolicited, substantial contribution towards Buskaid and set in motion preparations for a USA tour. The Buskaid Ensemble arrived in the USA in April 2002 where they played to a rapturous applause in Los Angeles and New York. Ms Anderson continues her support of Buskaid by generating donations towards Samson Diamond's tuition fees at the Royal Northern College of Music, Manchester.




Excerpts from Yahoo! Chat:


Q: What is Buskaid?
Gillian: There is the Buskaid music school... and there is the string project ... and there is a woman named Rosemary Nalden, who is a viola-ist in London. She decided to give up her cushy job and move to teach young kids to play classical music in Soweto, and she has transformed their lives. They are amazing musicians and a symbol of hope and what can be accomplished from the townships of Soweto to performing at Royce Hall in Los Angeles.

Q: Why did you decide to support Buskaid?
Gillian: I loved the idea of this woman who was a professional musician in London, having the courage to give up everything that was safe and comfortable and move to a very dangerous area of South Africa to be of service to these kids who she didn't know. I also love what the school represents in terms of Soweto being a place of very little opportunity. That these kids who have nothing but an instrument, put their focus into the instrument and become a musician such that they can play for royalty and travel around the world. And if they can have this focus, anyone can have this focus.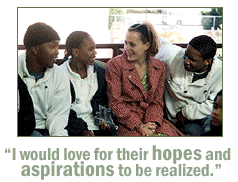 Q: How has your involvement with Buskaid affected your own focus in life?
G: I tend to be a pretty focused person anyway, but participating in this project has woken me up about some things and gotten me excited about new things and gotten me frustrated about the current situation in schools and lack of arts education and creative time for children. So it's given me more areas to get more riled up and want to do something about.

Q: Gillian, aside from their time in school learning music, what is the children's everyday life like?
G: That's a very good question. I think they spend a lot of time in school. Usually, they rehearse their instruments at home in the evening, and then they go into the Buskaid school on the weekends and rehearse for hours. And I'm sure many of them are participating in taking care of other family members. They have other responsibilities.

Q: What do you envision for this group of students for the future?
G: I would love for their hopes and aspirations to be realized. On a school standpoint, for them to be able to afford a larger space, more students and teachers. And for the existing students... I think their dream is to be able to go off and play as professional musicians. For themselves, their families, and their townships... I wish that for them.




How to Help

From Leaders Unlimited: Given the nature of funding for Buskaid, financial stability is not only vital, but also sought after for the development of similar projects throughout the townships as well as for the expansion of the music school. Buskaid has recently established its own Endowment Fund from donations generated during international tours. When this fund has reached its target figure, the project will become self-sufficient, enabling the sixty-five young musicians currently enrolled in the Buskaid Soweto String Project to complete their musical studies and ultimately to pass on their knowledge to future generations of aspiring young African musicians.



Click here for instructions on how to make a donation to Buskaid.

Contact details for Buskaid in South Africa, The United Kingdom, and The Netherlands are available here.

Buskaid USA is now an IRS recognized not-for-profit organization. Contributions made to Buskaid USA can be deducted from US tax returns. Donations should be sent to:

Brenda Shick
Tel: 330 524-4143
Email: brenda@buskaid.org.za
Postal address:
Buskaid
2503 Village Court
Vermilion, OH 44089

Links & Resources



Buskaid's Website

Article: Helping Soweto Youths Make the Music of Their Lives

Article: Soweto's sweet sound of music