November 2003 was a very busy month for Gillian. She participated in the Theatre Royal's Masterclass Autumn 2003 season to talk about the different disciplines of film, theatre, and television acting.

As a campaigner with aid organisation Action for Southern Africa (ACTSA), which works with and raises funds for people living with HIV/Aids, she appeared on BBC's special two-hour edition of Talking Point, a worldwide phone-in programme.

Gillian also presented the award for the Radio Story of the Year to Kylie Morris of the BBC World Service at the Foreign Press Association Media Awards in London.

On December 2003, she headed for Africa. "Christmas is normally my favorite holiday for all the cozy reasons and this year I will be driving across Africa in a very uncozy, unwintery vehicle with no room for presents or appropriate holiday cheer. It's not that I'm complaining! It's going to be fantastic - and I asked for it!"

After her return, she wrote, "I can remember very little and, on the other hand, what I do remember will forever stick out in my mind. The withering tortured bodies of AIDS orphans. The immediate change in energy from one African country to the next as one crosses the border. The terrifying and exhilarating rafting trip down the white waters of the Zambezi River. The friends along the way. The cards played anywhere and everywhere. And that landscape that fills a hole somewhere deep down in one's history."

By March 2004, she was back in the USA as a guest on the Ellen DeGeneres Show after which she returned to the London stage to star in The Sweetest Swing in Baseball which ran from March 25 to May 15, 2004. She garnered rave reviews for her performance as Dana Fielding.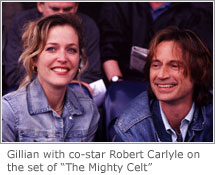 Soon afterwards, she completed filming The Mighty Celt in Ireland alongside Robert Carlyle and newcomer Tyrone McKenna. The film, written and directed by Pearse Elliott is a contemporary coming of age tale story set in the world of Greyhound Racing. Gillian said, "It was a fantastic experience all around. I loved the director, producers, actors and crew and I loved Belfast and I think the whole movie is really special and I can't wait to see it. Oh, and everyone on the planet is going to fall in love with the boy who plays my son." This film is scheduled to be released on October 2005 in Ireland and the UK.

On July 10, 2004 Gillian participated in the Dumisani fundraiser to benefit NfA and Buskaid.

By the end of 2004, she had completed work on Tristram Shandy: A Cock and Bull Story, which garnered rave reviews and nominations.

On December 29, 2004, Gillian quietly married former journalist and documentary filmmaker Julian Ozanne. The low-key affair took place on Lamu's Shella island, off Kenya's Indian Ocean coast. The event was attended only by her immediate family and a handful of close friends.

In October 2005, she appeared as Lady Dedlock in a BBC production of Charles Dickens' Bleak House. This adaptation was very favorably received worldwide and won many prestigious nominations and awards. Gillian said that this project had been tremendously rewarding and made her fall in love with the craft of acting all over again.

She separated from Julian in April 2006. "Gillian Anderson and her husband, Julian Ozanne, are saddened to announce that their marriage is at an end and they are in the process of separating. At this difficult time they request that their privacy is respected. There will be no further comment." said a statement released by their lawyers at Schillings law firm.

In July 2006, her manager Connie Freiberg said, "Gillian is happy to announce that she is expecting her second child, due at the end of the year, with businessman Mark Griffiths." A few days later, in a message to her fans, Gillian wrote, "Oh by the way, I am pregnant; which I have no doubt many of you know from the ridiculous tabloids around the globe but it so happens to be the one thing out of so much of nonsense, that is true. And I am very excited. And I am very fat."

What's next for Gillian? Back in 2001, she optioned the novel "The Speed of Light," by Elizabeth Rosner. She has been polishing the screenplay she's written and is now close to letting it see the light of day. She also plans to direct this film: "Directing was a transformative experience for me, one that I really enjoyed. When I picked up this book and started reading the poetry of her words, I found myself trying to visualize where the camera should be, the colors of the characters, the texture of the shots. It felt so intimate and natural, like I wrote it myself. I took the steps to option it, something I'd never done before. It's a beautiful piece that needs to see the light of day and hopefully I can do it justice."

Soon to be seen in movie theatres everywhere is The Last King of Scotland which was filmed in Uganda and possibly by February 2007 (to be confirmed), Straightheads.

She is looking forward to start working on the black comedy No One Gets Off In This Town which is currently in pre-production.

Gillian also has the rights to Gellhorn: A Twentieth-Century Life" by Caroline Moorehead and plans to make a feature film (not a biopic) focusing on the marriage between Ernest Hemingway and Martha Gellhorn. Sharman Macdonald will write the screenplay and Gillian will play the role of Martha Gellhorn.

And as far as the next X-Files movie, Gillian says, "I have no f****** clue. I think there's still a law suit, as far as I know the script has not been written, and as much as we all want it to take place as soon as possible, AND YES THAT INCLUDES ME, AND ALWAYS HAS, SO STOP WITH THE NONSENSE! It is out of my hands. Completely. Write to Fox guys, tell them to make it happen!"

As always, Gillian the Activist continues to promote awareness for many charitable causes such as Neurofibromatosis, Inc., the Neurofibromatosis Association (UK), Buskaid, South Africa's Treatment Action Campaign (TAC), ACTSA, PETA, and the Zimbabwe Benefit Foundation.

Her most recent project will benefit the Alinyiikira Junior School in Kampala, Uganda. While filming The Last King of Scotland, a friend of her's invited her to visit the school. In a letter to her fans, Gillian wrote, "The school has been open for almost two years and has about 120 students in one of the poorer parts of the city. They have no electricity and hardly any books and have filled up their exercise books I don't know how many months ago, and some of the kids cannot afford the uniforms, etc. etc. etc. And yet the children are incredibly bright and disciplined and so ready and willing to learn." If you would like to help Gillian with this cause and learn more about the school, please read the letter from the Headmaster and check out the Wish List and How to Donate web pages.

Gillian thanks all her fans for their continued support of both her work and other endeavors and encourages everyone to remain involved in helping others.